1973 MGB

Driver - Tony Hess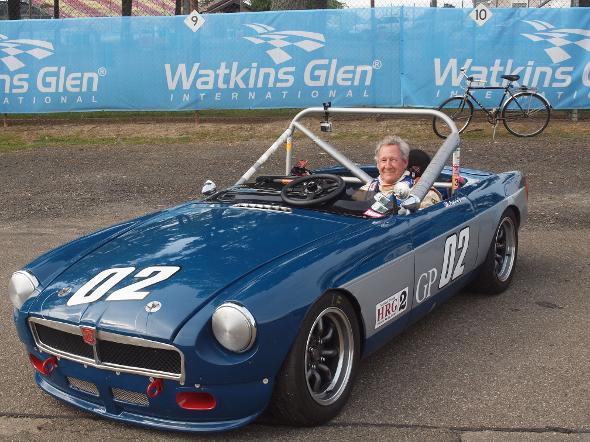 Tony's Racing History :
Tracks Raced at:
Bridgehampton, Limerock, Mid Ohio, NJ Motorsports Park, Pocono
Road Atlanta, Sebring, Summit Point, Thompson, Watkins Glen
Timeline:

69-71 campaigned an MGB DP at various regional events

71-75 auto crossed a 71 TVR Vixen in Florida at various venues

75-86 some auto crossing in the TVR in PA at various venues

86-96 life got in the way

96-2000 Got the bug again-
Ran a number of BMWCCNA Club Racing events in a modified 325is
2000-2011 life got in the way ( again)
Went back to school (Racing School that is):
VSCCA Drivers School May 4-5 2012
Skip Barber Formula 2000 Advanced School
Currently:
1973 Silver MGB in Vintage/ Historic racing configuration

Racing with HRG and SVRA
How that happened-

In 2013 my wife and I were at the Vintage GP at the Glen as spectators and I mentioned to her that it was killing me not being out on the track. She looked over at me and said "well then go buy a race car" I didn't have to be told twice.
I found a 73 MGB in almost the same colors as the B I raced back in the 60's. Karma? I bought it and promptly blew the engine my first time out a Limerock. After getting the B back up to speed I started to race with HRG and SVRA on a regular basis.

I finished third in Group 2 my first year with HRG which made me more hungry to do better. For 2015 I told myself that I was going for the championship in group 2. Well as it turned out I did win it. This winter (2016) I made the annual trip down to Sebring for SVRA Winter Classic. I have been going down to the Classic for about 4 years and every year I seen to get a little faster, when I'm not stuffing the B into the Armco. This year I finally got my lap times down to under three minutes a lap (2.54.7) and podium-ed in both D production races. If you ever have the chance to race at Sebring DO IT. It's a great track with a lot of history


So it looks like I have been racing off and on for over 50 years

Championships:
2015, 2016, 2017, 2018, 2020- HRG group 2
In car videos
Race with a Triumph Spitfire Limerock 2015
Contact at Turn 4 - Thompson 2020